I'm minding my business and watching Doctor Who when this ad pops up:
I'm thinking well this must be like a test of my intelligence. Because that looks like a rotten banana and it's kind of obvious that you're not supposed to eat rotten shit because keywords? rotten. I was very tempted to click on the ad because it became a guessing game... what are the three other rotten things you can never eat to lose belly fat. I had a surprisingly long list.
I mean don't get me wrong. I'm a whimsy lover. I use a butter dish for a soap dish for the simple fact that it's shaped like a fish. Except the fish keeps eating all my soap up. My mother tells me that's because the butter dish isn't designed to be water-proof.
I tell her, that's the only reason Titanic sank. Because butter dishes aren't designed to be water proof. Titanic's like "fuck you butter dish makers, I'm going to make sure breakfast sucks in the motherfucking life boats. And when those sad losers get on land they will find you and kill you."
My mother raised an eyebrow and let it pass. (Later when I told her I was going to meet a friend she said "a.k.a the shrink, right? Buuurrrrnnnn, she wins round 2)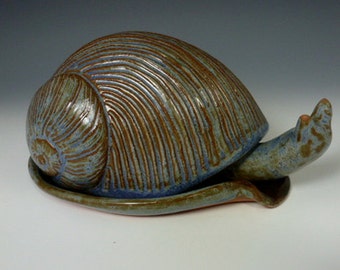 This is what it looks like except it's a fish instead of a snail (use your imagination!) and no I'm not sharing my bathroom pictures with you because I'm a lady, that's why! Also bathroom is in a terrible mess. Also, tell me it doesn't scream "Soap dish" and I will hit you.
Also, I asked myself am I the only person on this planet that thinks ghosts don't have to wear underwear? Because that would be insane and I could get rich....(because being the only person in the world that comes up with ideas that will have no impact on anybody's life is what millionaires are made of? Or not. I think I'm confusing millionaires for homeless people.)
And Google throws up this picture and I'm like damn. Fuck it, being rich is over-rated. And so is being homeless. I'm fine with my fish butter turned soap dish.